Faulkton Murals Illustrate Town's Unique Identity
Wednesday, August 22, 2018
Public art has a role to play in economic development. It helps develop a town's identity and character. It can tell the history of a place, inspire people and attract visitors too.
Faulkton, South Dakota is a tiny town with a big commitment to the arts. During the summer of 2018, the community supported the creation of two large-scale murals from international artists. This public artwork portrays people and scenes unique to Faulkton.
The first mural by Australian artist Guido van Helten decorates the side of a grain elevator. The massive, photorealistic mural aims to capture the essence of the town and its people. Read more about this project, which is expected to help Faulkton become a destination for tourists.
The second mural is a collaboration between two Nigerian artists, Jonathan Imafidor and Dotun Popoola. It combines art and history and was sponsored by the Faulkton Area Arts Council and Faulk County Historical Society.
It's titled "The Last Wild Buffalo Hunt," and was painted on the Faulk County Museum's west side. The mural depicts Faulk County's last wild buffalo being shot by a young man on horseback in 1883. Learn more about the piece and the artists behind it.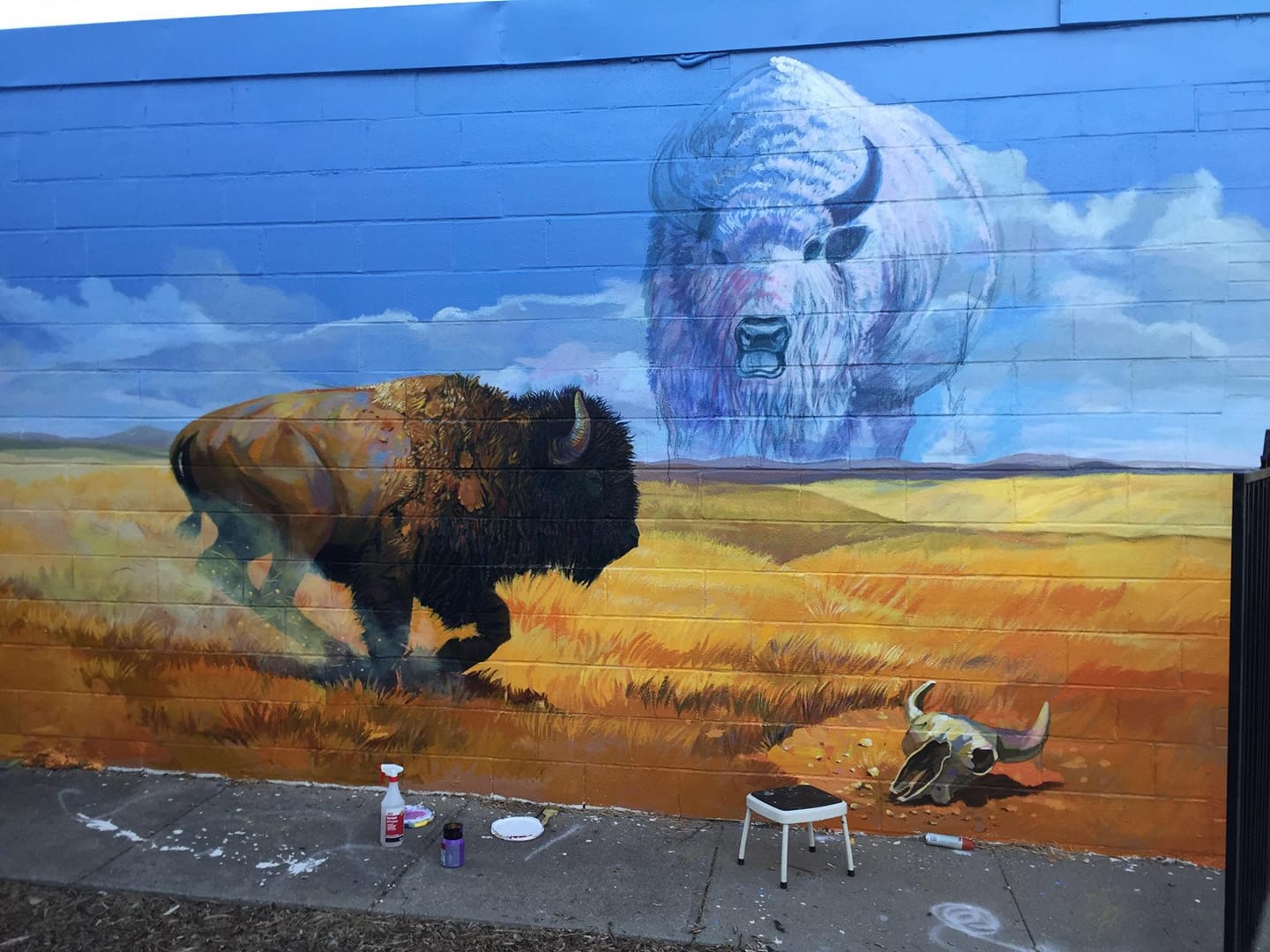 Popoola, who specializes in sculpture and painting, first came to South Dakota to work with sculptor John Lopez. Popoola and Imafidor painted a mural of the cattle trail for Lopez's studio and have worked on a number of murals together in several states.
For more than 40 years, the local arts council has organized numerous art-related events each year in the community of about 700 people.
"Investing in public works of art like these murals helps add a level of vibrancy to our town," says Linda Bartholomew, one of the original members of the Faulkton Area Arts Council. "It helps define and beautify Faulkton as well as instill a deep sense of community pride."
Category: Arts and Culture