Walkabout Mother Bins and Outback Wraps
Manufacturing is not limited to big cities. Walkabout Mother Bins and Outback Wrap have been leading innovation in the farming industry and providing jobs in Faulkton, South Dakota, since 2015 and 2018 respectively. Entrepreneur Dave Hedt, Owner/President of Walkabout Mother Bins and Outback Wrap is a native-born Australian turned active Faulkton community member. Hedt grew up in Victoria, about four hours northwest of Melbourne, and has an extensive background in agriculture from working on his family's farm there.
One reason Hedt chose Faulkton as the headquarters for his businesses was because of the people. His journey to South Dakota was sparked years ago when Hedt met a Faulkton resident in an Australian pub around 1999. After accepting an invitation to visit, he made lasting friendships which brought him back summer after summer during Australia's winter. He met his future wife in Faulkton, eventually called it home, and embarked on his first venture — building the Faulkton Retail Center.
"I moved across the world to be here because of the community and people," said Hedt. "The best thing about doing business in Faulkton is that as a larger company, we get to see the direct results from generating good-paying jobs in a small town. The people I get to work with every day are my friends. The ability to walk into other businesses like the bank and not have to explain what you do or what you need is a definite advantage."
"Our business is 100 percent based in Faulkton," continued Hedt. "All operations are run out of the Faulkton Retail Center. We are a USA-owned company, a South Dakota LLC to be exact, and we are made in the USA. Although our business is 100 percent in Faulkton, we do subcontract the manufacturing to Mackow Industries based in Fargo, ND."
Walkabout Mother Bins
Walkabout Mother Bins ushered in a new era of harvest efficiency across the USA and North America with its founding in 2015 in Faulkton. Walkabout Mother Bins are large, portable, in-field grain storage bins that provide farmers with an efficient and affordable grain storage harvest system – a missing link between grain carts and trucks. The Walkabout Mother Bin was designed and built specifically for the use of the North American farmer based on a technology system that was developed in Australia in the 1990s.
"A Walkabout Mother Bin brings a tried and tested Australian concept to North America with the added advantage of being adapted for North American conditions," said Hedt. "With the ever-increasing yields and farm sizes, and the reduction in labor forces due to shrinking rural communities, the Mother Bin fills in a gap where labor is hard to find and at the same time generates massive amounts of efficiency during harvest."
A Walkabout Mother Bin can store grain in the field and keep harvest running without grain carts waiting for trucks, or trucks waiting for the grain cart to circle back. The Walkabout Mother Bins keep the harvest moving when obstacles arise like slow unloading at the grain elevators, elevators closing, or incoming inclement weather. With its 4,000-bushel capacity and 22-inch unloading auger which can load a semi in about two minutes, Walkabout Mother Bins help rectify breakdowns occurring anywhere in the transport, delivery, or storage chains.
"Mother Bins are currently novel in North America, but have been standard in Australia for almost three decades," said Hedt. "I would like to say that we are still in the 'early adopter' stage, but farmers are quickly realizing the benefits of this 'Swiss Army knife' style product that's able to be used for a range of things."
What is also novel is Hedt's sales approach. Each potential customer has a consultation to calculate the return on investment (ROI) that a Mother Bin will provide. While more often than not, it's found that a Mother Bin will be beneficial, sometimes it isn't.
"Our driving purpose is to make the lives of our customers better," said Hedt. "Unless our product helps you, we won't sell it to you. For example, there was a farmer with 1,200 acres and no help where the Mother Bin shortened his harvest time by five weeks. On the other hand, there was another farm of the same size where we showed him there was a better way than using our product. Because of this filtering, a Mother Bin has never come up for second-hand sale."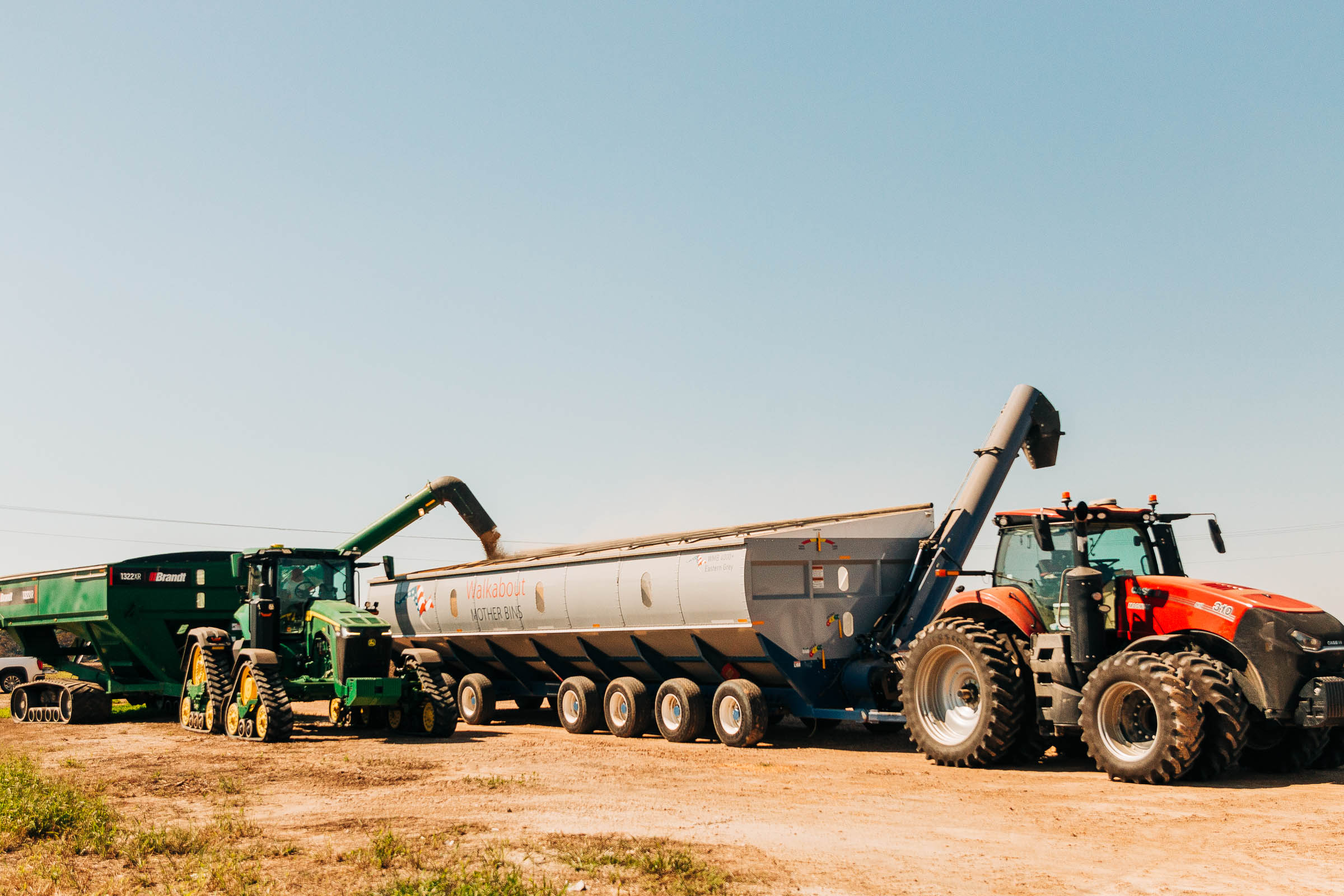 Walkabout Mother Bins is currently partnered with the University of Illinois on a capstone project to develop a computer program to calculate ROI more efficiently.
To further serve customers, Walkabout Mother Bins is a member of AgPack. When a vehicle is purchased from a participating certified agriculture dealership, customers have access to a powerful package of farm and ranch discounts and rebates worth thousands of dollars, including discounts on Mother Bins.
"We are growing at an unprecedented rate, and Faulkton is an amazing place to live and be based," said Hedt. "What U.S. farmers are going through now happened in Australia in the 80s when trucks became expensive to own and run, labor was hard to find, and lines at elevators became longer. With our seven years of development and adaptation to the U.S., within the next 1-3 years you will see Mother Bins become a necessary part of North American farming."
The numbers tell the story. In 2021, more Mother Bins were sold than in the first five years combined, topping out at 42. "For 2024, the projection is 100, and by 2030, the goal is 300 Mother Bins a year," said Hedt.
To accommodate this increased productivity, Hedt will expand his office headquarters and add a warehouse in the Faulkton Retail Center once the current hardware tenant completes its expansion to the Faulkton Industrial Park. Hedt will also construct a new building. A minimum of three jobs will be added, maybe as many as 10.
Outback Wrap
Outback Wrap was created out of Hedt's commitment to solve common problems that farmers face. Every Walkabout Mother Bin comes with Outback Wrap, an easy-to-install durable hydraulic hose identification system that simplifies the process of connecting farming equipment to tractors. As the name implies, you simply wrap the coils around the hoses — no tools required. Outback Wrap products can also be purchased separately from the Mother Bins.
True to form, Hedt has continued with product development. Outback Wrap has a line of organization systems for bundling multiple hoses including The Hose Tamer, The Hose Honcho, and The Hose Boss. The Scorpion Spiral glows in the dark. New innovations are on the horizon for marking fuel hoses, bundling computer cables, and identifying high voltage lines.
Since the launch of Outback Wrap in 2018, it has seen a 300 percent increase in production each year leading to the recent onboarding of four full-time and 10 part-time high student employees to bag the wraps, among other duties. Sales projections for 2023 are expected to top $1 million.
Driving Philosophy
"I want to show that you can start and run a large scale business in a small town setting," said Hedt, "you can bring in good-paying jobs. I work with the most wonderful group of people who have the same passion and drive that I have and can see what we are working towards."
"The thing I tell people is 'Why wouldn't you want to make the place you live better?' and that is something we strive for every day."
Follow Walkabout Mother Bins on Facebook, Twitter, Instagram, and TikTok @motherbin1.
Follow Outback Wrap on Facebook, Twitter, Instagram, and TikTok @outbackwrap.