Homan Hardware Success Story
24 May 2022
News, Success Stories
Locally owned since 2014, Expanded in 2022
Diana and Chad Homan, owners of Homan Hardware in Faulkton, South Dakota, have been serving the community and surrounding counties for many years prior to the store's launch in 2014. Chad moved to the area in 2000 and worked for a local rancher, drawing from his previous experience of owning and managing a small dairy farm. Following their calling to be entrepreneurs, Chad and his brother, Brian, built Homan Welding from the ground up in Faulkton in 2007 with the intention of serving the agricultural community. The business continues to thrive. In 2011, Chad was named a Dakota Rising Entrepreneur Fellow as part of a program designed to help accelerate rural economic growth.
"Chad started Homan Hardware after we outgrew the space for simple hardware items used in his welding and repair business," said Diana. "He felt that Faulkton would be able to support a full-scale hardware/farm and ranch store. By opening the store, we have given the community an opportunity to spend their dollars locally, which benefits all of us directly and indirectly."
Diana took over the office manager position for both Homan Welding and Homan Hardware in 2016, and now she is the full-time office and store manager at Homan Hardware. Before managing the family businesses, Diana was a full-time elementary teacher at the Faulkton Area School District.
Homan Hardware carries everything the community needs, focusing on forming relationships with their customers. In addition to electrical, plumbing, fencing, and garden supplies, Homan carries personal items like Muck Boots, rubber overshoes, gloves, and hats and offers services such as key-cutting, assembly, and in-town delivery.
Being located in the community means Homan Hardware can be responsive to specific needs. Diana uses their Facebook Page to give updates on new items in stock, and customers are encouraged to provide their opinions on what should be ordered in the near future. All it takes is a comment or a call.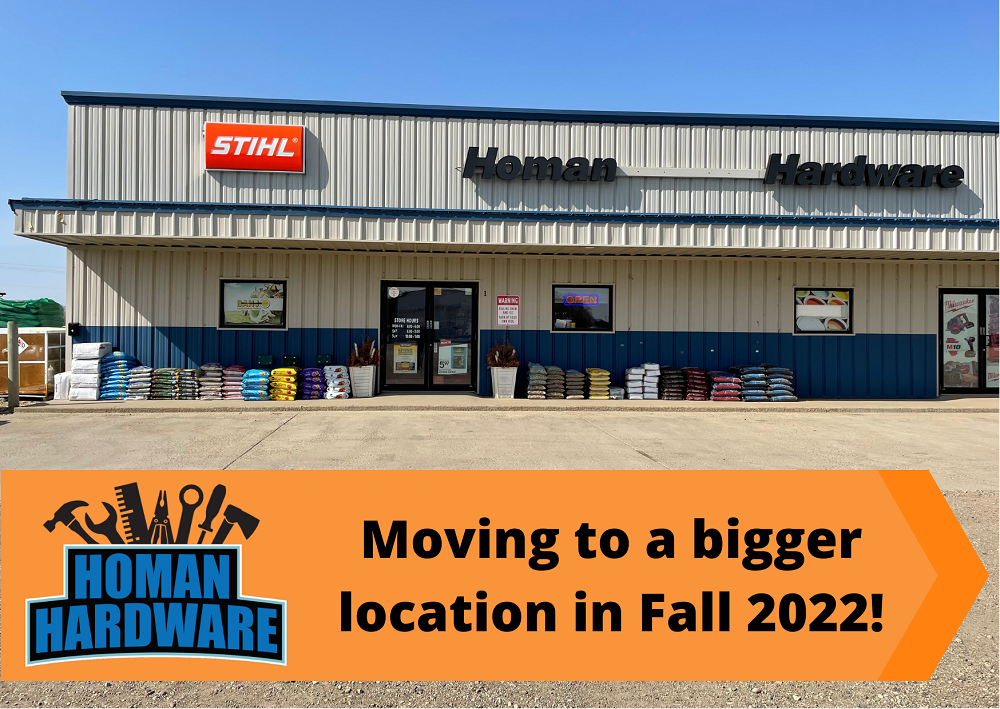 Homan Hardware's success is leading to an expansion. "We have plans to be moved into our new location in the Faulkton Industrial Park by the end of 2022," said Diana. "The new structure will be double our current sales floor space, have several office and staff spaces, and have a larger freight receiving space. With the larger store, we hope to expand in several new categories, plus offer a larger selection in our current departments." Keeping to the recipe that has helped them succeed, a digital customer survey is planned to direct the product line diversification and expansion.
Diana and Chad chose the Faulkton Industrial Park for their expansion because recent development by Faulkton Economic Development allowed them to have a site with highway frontage. "Highway frontage can be difficult to come across, and this was an important factor we considered," said Diana.
"Another reason we chose the industrial park as our new location was because of the proximity to our other business, Homan Welding," said Diana. "Since we will be right next door to each other, the businesses will be able to share machines for freight and snow removal plus facilitate many other conveniences for us. It just made sense!"
Until the expansion — and beyond — the Homans want residents to reach out to them for the items they need. "We have access to so many products that cannot fit in our retail space," said Diana. "Every week, we have many special orders for people looking for those 'odd and unusual' products. Check with us and see if we can order what you need!"
"Our customer base spans countywide and into the neighboring counties," said Diana. "We've been pleasantly surprised with the local support and patronage from a tri-county area. Owning a business in Faulkton has been a humbling experience. We are truly grateful for the loyalty that the community shows us."